Many of the posts in this blog are about large, historic, community-significant fountains. But one of the greatest satisfactions of Robinson Iron's is when a happy customer sends a picture of one of our standard, smaller pieces they have featured at their home. It is a wonderful reminder of how special ALL of these fountains can be!
Below is a picture of just such a fountain; the Roman Fluted Medius on an additional base sitting in our 6'5″ Egg and Dart Basin. It was sent to us by a client in Georgia just the other day!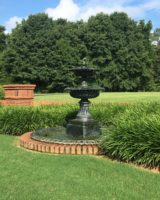 Thanks for stopping by!