When it comes to cast iron fountains, there is not a lot of maintenance. Iron is a very durable metal and Robinson Iron has restored castings from as many as 150 years ago! Iron fountains have been very popular ever since they were first sold because of their longevity and the calming sound the makes as it echoes through the metal.
This is not to say cast iron fountains don't show signs of aging, though. Remember: these beauties are made of a ferrous metal that is submerged in water and exposed to all types of weather-related elements and other factors like calcium or lime in the water that flows through them.
Some people adore the way an iron fountain ages, though. I have seen fountains that have not been painted for several decades and they are just as iconic now as they were when they were first installed. However, some like to have the fountain repainted more often to keep the look more up-to-date. It is really is 'to taste', as they say.
Over the last two weeks, a Robinson Iron crew has helped two different communities repaint their fountains in situ. While it is optimal in a true restoration to remove a fountain, break it down, clean it thoroughly, re-prime and repaint at our facility, we can do repainting work on-site with fantastic results too!
Check out these pictures from the fountain in Baytown, TX … Robinson Iron team members were able to remove much of the old hard water and rust stains, prime and paint the piece in place. The results speak for themselves!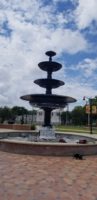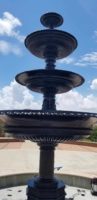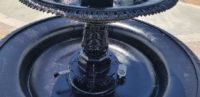 Thanks for stopping by!