As the old saying goes, "There's no place like home…". For Paul Spickard and Darlene Lynn, that saying rings especially true as both of these talented individuals are back in Alexander City, AL working for Robinson Iron!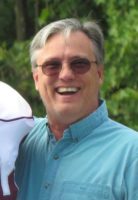 Paul Spickard
Paul spent years working for Robinson's sister company, Satterfield Machine, before matriculating to Selma, AL with a new opportunity. Then, as the need arose for another multi-faceted leader at Robinson Iron, Paul's name was the first to come to mind. The company contacted Paul and he was happy to listen!
Now Paul is back in the Robinson Corporation family using his vast knowledge and expertise in engineering, machining, castings, and, well, just about anything, to keep Robinson Iron at the forefront of the restoration industry. It only takes a quick conversation with Paul to know your project is in the best hands possible.
Darlene, meanwhile, had been at Robinson Iron in the past. In fact, it's where she got her start in the cast metals industry. She eventually took her immense talents to another restoration firm where she honed her skills in site management and sales.
One of Darlene's acquired and accomplished traits is her proficiency in metal finishes. Considering Robinson Iron continuously works with projects that can demand intricate- if not downright 'funky'- finishes on any material from iron to bronze, Darlene's experience will be incredibly useful! We are thrilled to have Darlene back as a member of our team!
Please join Robinson Iron in welcoming Paul and Darlene and expect to see them on a job site near you soon!
To contact Paul: Paul@robinsoniron.com
To contact Darlene: Darlene@robinsoniron.com
Thanks for stopping by!