A few years ago, Robinson Iron created a masterpiece of a fountain for Toronto's Berczy Park. An enormous iron beauty that been like a magnet for tourists since its installation.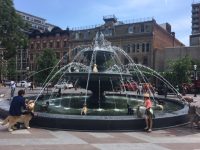 Now, RIC will be fabricating another one-of-a-kind fountain in Canada… This time, in Montreal! We will, of course, be providing pictures and stories right here on our webpage along the way….
Be sure to read THIS ARTCLE FROM THE MONTREAL GAZETTE to find out more!  You will not be disappointed!
Thanks for stopping by our blog!