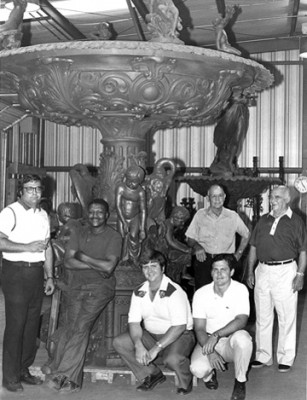 On January 1, 1946 the Robinson Foundry and Builders Supply Company came into operation with eleven employees including the president and owner, Joseph H. Robinson. The Robinson's were well established, respected American businessmen and Mr. Robinson located the foundry on a site previously occupied by a family owned gristmill in Alexander City, Alabama. The primary products were soil pipe and ornamental castings. Mr. Robinson had been encouraged by his wife Sara Holmes Robinson to acquire an ornamental pattern collection from the antebellum Janney Iron Works of Montgomery. They began making pieces for friends and as interest in the items grew they realized a more complete line could be marketed through catalog sales.
As a result, Robinson Iron was launched in 1974 with J. Scott Howell as Vice President and General Manager. The Robinson line consists of historic reproductions of cast iron lawn and garden ornaments (Janney, Fiske, Mott and Perot) with a special emphasis on Architectural Metalwork – restoration and custom casting. Scotty continues to direct day to day operations of the firm and has successfully concluded many award winning projects of note.
The Robinson's two sons are officers in the firm: Richard H. Robinson, President and Joseph H. Robinson, Secretary/Treasurer. With so much metallurgy in their blood, their knowledge of processes and materials proves an invaluable resource. Both are distinguished contributors to
the advancement of modern foundry technologies with many honors bestowed upon them by their contemporaries.
A third generation of Robinsons (Luke and Austin) and a second generation Howell (John B.) now contribute to the success of the firm. Most of Robinson's 75 employees are from the Alexander City, Alabama/"Greater Lake Martin Area". They are a specialized mix of artists, craftsmen, engineers, foundrymen, fabricators and salesmen. Many serve on local boards/committees and contribute directly to community organizations i.e., Main Street, United Way, Chamber of Commerce and Gateway to Education.